Women's Equality Day celebrates the passing of the 19th Amendment in 1920, which legally permitted women to vote. A century later, we're acknowledging the ways this fight for equitable representation has influenced the construction industry and beyond.
Celebrating Trailblazing Women In Construction
103 years ago, our foremothers experienced an event that changed the course of history: they were legally permitted to vote under the 19th Amendment of the United States Constitution. This came after decades of fighting for universal suffrage and remains a powerful reminder of the strides so many women have made to ensure we all have a voice.
It can feel shocking to imagine a world in which women weren't allowed to do something as simple as exercise their right to vote; but the truth is, women in 2023 are undergoing just as many significant shifts and fights. Celebrating these moments in our history is important because it allows us to see how far we've come, while fueling our fire for the next 100 years.
What do the numbers tell us about women in construction?
The shifts occurring at a nationwide, political level aren't the only ones worth celebrating – across industries, incredible women are creating more equality in their workplaces, neighborhoods and communities. So many industries remain male-dominated – our very own building and construction industry being one of them.
In fact, in the United States today, women make up only 9 percent of all construction managers and 14 percent of executive positions. Overall, the amount of women in the construction industry has only increased by 2 percent since 2011, meaning they now make up about 10.9 percent of construction jobs.
Yet interestingly enough, the wage gap is significantly smaller in construction occupations, according to the U.S. Bureau of Labor Statistics and the National Association Of Women In Construction. Though even a fraction of a wage gap is unacceptable, women earn 95.5 percent of what men do in positions of construction management versus the U.S. average of 82.9 percent across all industries.
Woodside's commitment to championing women in leadership
Progress is progress, but it takes expressed commitment to spark true, lasting change. We firmly believe that advancing equality in one industry does not create a siloed effect – it actually helps in the efforts to advance equality across all industries. That's why we're so proud of the women who are helping do exactly that. Those are the women we want to acknowledge today – and we're honored to have many working for us here at Woodside.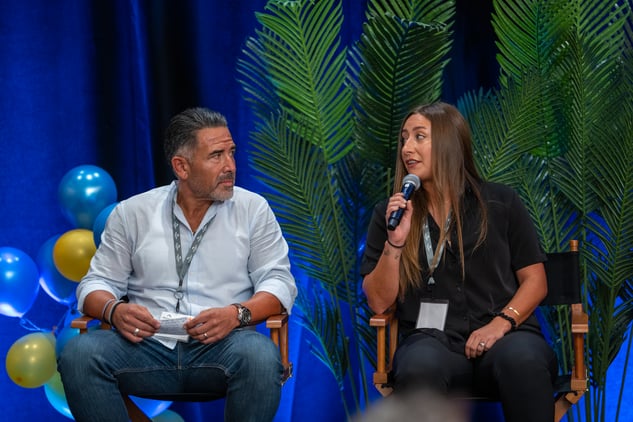 One such woman is Mellisa Anaya, our Nevada division Assistant Superintendent, who was recently recognized for her Elite Team designation for stellar customer reviews and outstanding work. When asked about her experience working as a woman in construction leadership at Woodside, Mellisa said she's never felt that she's been seen as any less than equal – in fact, being a woman has provided her with an advantage that has allowed her career to skyrocket.
"Some homeowners and homebuyers don't always feel seen or heard with their concerns," she said. "But I think once I walk in and they see that a woman is there to support them, they feel a little more comfortable talking about their feelings."
Mo Haider, our Nevada division Vice President of Operations, wholeheartedly echoes this sentiment and acknowledges how powerful and essential women are in the positions of leadership in the construction industry.
"Women often bring a level of humanness to management that makes customers and partners more responsive to them," he said. "There's a level of finesse and thoughtfulness, understanding and patience that women bring to the table. We need that."
Mo has worked with Woodside for seven years and has not only witnessed an increasing amount of women in leadership roles but the change they've been able to create in those roles.
"The truth is, egos can very easily run the show in this industry," he said. "If we only built houses the way men wanted to, we'd be extremely limited. In all honesty, women get more done, are treated with more respect and have more authority in positions of construction leadership nowadays. The role of women has gone so far beyond the 'Leave It To Beaver' days. The old way of thinking has lost its grip and is on its way out."
Woodside Homes recognizes the significance of inclusivity and celebrates the achievements of women within the homebuilding industry, championing progress towards a more equitable future. To learn more about our initiatives and start your journey toward finding your next home, contact us today.