Buying your first home is a big deal. Here's how to make it easier.
Bask in longer days, soak up the sunshine, and relish the delights of outdoor living as the warmth and energy of summertime kicks into high gear. Of course, one of the best parts about summer is spending time with loved ones – but for that, you're going to need a beautiful outdoor space for entertaining.
Let's get excited about summer together and explore the unique features of Woodside Homes that will offer an extraordinary outdoor experience, personalized for you and your family.
Longer Days for Precious Family Time
Long summer days mean longer hours spent soaking up the sun and frolicking outside – at least, until you start to get sun drenched. Thankfully, your future Woodside Home is designed to seamlessly blend indoor and outdoor spaces, creating an environment equally perfect for cool relaxation and outdoor entertainment. Maximizing your outdoor living area does more than give you a beautiful space to come home to – it creates more opportunity to forge unforgettable memories and strengthen the bonds that make your family unique.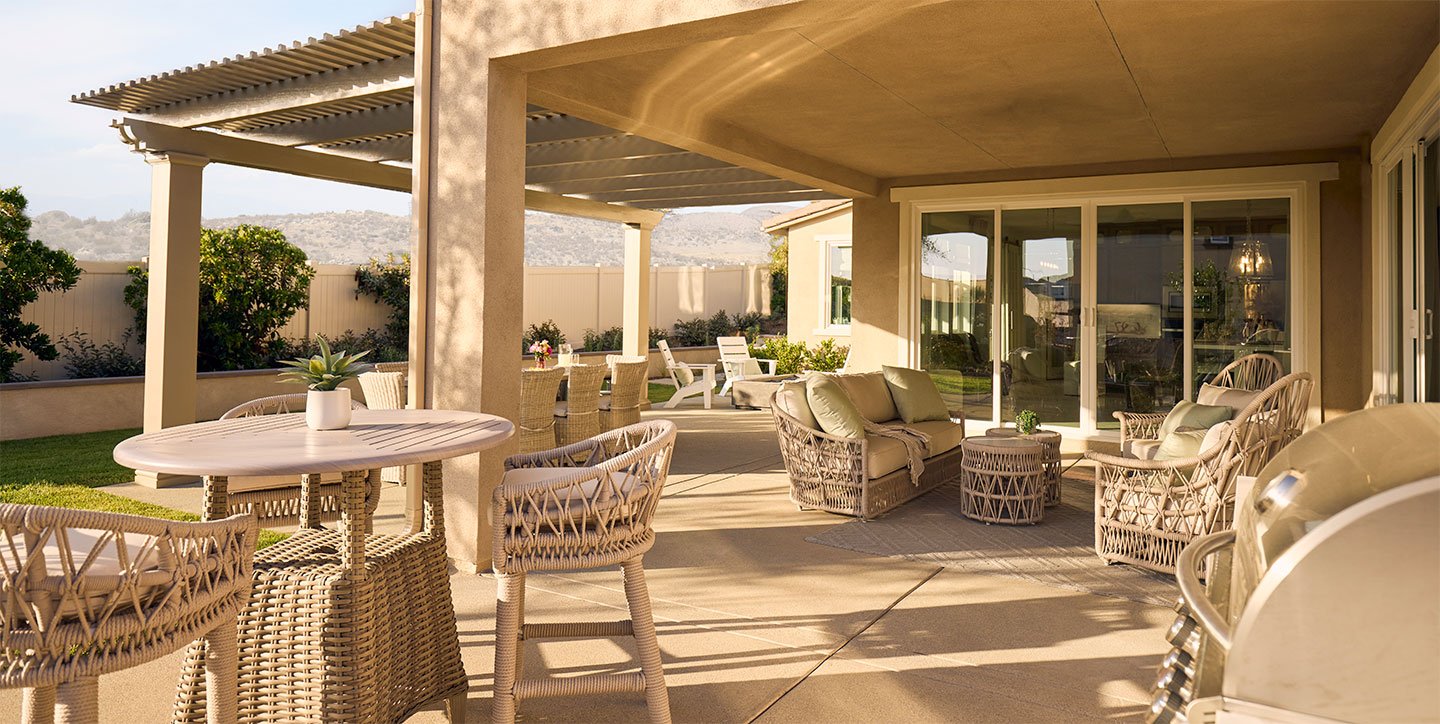 Stylish Patio Design and Personalization
At Woodside Homes, we understand the importance of a well-designed patio that feels like your personal haven. That's why our experts pay meticulous attention to patio design, transforming basic outdoor spaces into inviting retreats. With personalized options galore, you can curate a patio that perfectly reflects your style and preferences.
For instance, imagine you walk out onto your patio and see this: cozy, trendy seating arrangements, an alfresco dining area where your guests will enjoy an amazing meal, or even a tranquil courtyard complete with a bubbling fountain. The choices are endless, and you can rest assured knowing that when you gaze out at your backyard through the kitchen or living room window, you'll find a retreat that's as stunning as it is functional.
Wellness-Oriented Design
Our approach at Woodside Homes goes beyond aesthetics – we actually incorporate scientific research to create homes that promote your well-being. Yes, scientifically-informed design is a thing – and lucky for you, it's our thing.
There's so much to consider when it comes to designing a home that prioritizes the health, safety and happiness of you and your family, which is why you might find it helpful to check out our Living Well Solutions. They incorporate various features that will benefit your personal lifestyle and optimize your home environment for enhanced wellness.
As part of our commitment to conscious design, we have experts in efficiency and wellness on staff, from home design to post-purchase support with solar options and more.
LEED-accredited Design Director Sylwia Olewicz is is an expert at ensuring sustainable and environmentally-conscious features are seamlessly integrated into your home so you can enjoy a healthy and rejuvenating living space – one that maintains healthy living indoors while bringing in the beauty of the great outdoors.
"Creating a home where healthy living thrives not only ensures a way of life which enhances well-being and contentment but infuses the home with design elements that effortlessly elevate lifestyle daily," says Sylwia Olewicz, LEED Certified Design Director. "Healthy, relaxing, and soothing spaces are created by consciously addressing energy and water efficiency, creating healthy indoor air quality with filtration, specifying healthy materials with low or zero-emitting toxicity (low VOC - volatile organic compounds), and consciously elevating spaces with sunlight and openness. This holistic approach to experiencing a healthy home generates worry-free living every day." Contact our team to discuss which Living Well Solutions are most beneficial for your family.
Outdoor Kitchens for Effortless Convenience
Your time is incredibly precious. You may feel like you spend so much time doing your everyday chores and taking care of the family that finding a moment to plan out your dream home feels impossible. You may think that necessitates taking shortcuts or sacrificing certain details of your new home, but not here. If you've always dreamed of entertaining friends in an incredible outdoor space, you're in luck – our Home Oasis concept includes the signature feature of an outdoor kitchen.
Imagine the joy of spending more time outdoors while still having all the conveniences of a fully functional kitchen – effortlessly entertaining while staying connected to your loved ones, and being able to talk with them while you prepare dinner or make drinks.
As an added bonus, our Home Oasis design allows you to keep a watchful eye on your little ones as they play, so your children, pets, and guests can revel in the joys of the outdoors and you can find a little peace and quiet.
Enhancing Your Life
The excitement of summertime extends beyond just the longer days for you. Increased sunlight and exposure to the outdoors offer numerous physical and mental health benefits.
For instance, natural light provides a rejuvenating boost of vitamin D, enhances your mood, and promotes overall well-being. That's why it's so important to have plenty of it in every room of your home.
With thoughtful patio design, wellness-oriented features, and the convenience of outdoor kitchens, you can create the perfect fusion of functionality, style, and well-being. Embrace the longer days, create lasting memories with your family, and savor the pleasure of a home that effortlessly combines indoor and outdoor living. This summer, let your Woodside Homes home become the ultimate gathering place for everyone you hold dear. Our talented sales counselors can't wait to hear about your backyard goals, contact us today and let's get you home.